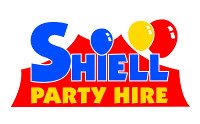 ---
Terms of Hire
Delivery and collection charges are included in the hire price within Whyalla only. Quote on application to other centres is available. Specific times cannot be quoted for delivery/collection.


The minimum order amount for delivery is $50. Any amount under $50 can be picked up from shop premises. Bookings must be made 24hrs before pickup. A deposit of 25% is required when booking to confirm your order.


The hirer will be responsible for all goods from the time of delivery or pickup, until the goods are returned or collected in full by/to Shiell Party Hire.

3a. A person must be present at the time of delivery. If no person is present, Shiell Party Hire is not liable for any theft or loss. Any theft or loss will be on the onus of the hirer to replace at their own cost. Please note number 8 below.


Goods must be returned clean or a cleaning charge will charged to the hirer.


The cost of damages or shortages will be charged to the hirer. All shortages must be reported as soon as possible upon receipt of goods, not after the function has past. Otherwise your claim will not be recognised.


All transaction are C.O.D unless previous arrangements have been made.


Prices are subject to change without notice. All prices are for one day hire. Extended hire prices available on application.


Shiell Party Hire shall not be liable for any loss or damage arising from late or failure to deliver any items of hire.


The hirer is responsible for damage to underground services unless an accurate plan is supplied beforehand.


All prices include GST.


If the hirer requires items to be delivered/collected outside normal working hours, (eg abnormal event start/finish times, Sundays or public holidays), a delivery charge will occur.


Freight outside Whyalla if required, is at the discretion of the customer. Shiell Party Hire will not take any responsibility of any damaged/missing goods on arrival/departure. Any damaged/missing goods will be charged to the hirer on return to Shiell Party Hire.


Please note on acceptance of these goods, you are bound by the terms and conditions of Shiell Party Hire whether signed for or not.


A cancellation fee will apply, if order is cancelled withing the following: 7 working days 25% of total order amount, 48hrs 50% of total order amount, 24hrs 100% of total order amount. If any hire equipment is interhired from another company and order is cancelled within 7 working days, the hirer will be charged the full hire amount of that equipment.